Fans of LA Noire are calling for a sequel to the original game as it turns 12
Rockstar's Grand Theft Auto and Red Dead Redemption are probably the first games that come to mind when you hear of Rockstar. Rockstar Games is not just about Grand Theft Auto and Red Dead Redemption.
Rockstar Games has sent Grand Theft Auto into a frenzy by finally providing an update on the highly anticipated GTA 6. In a recent earnings call, it was revealed that the game could be released during 2025's fiscal year. This may sound far off, but the fiscal year actually begins in April 2024. We don't yet know how GTA 6 looks outside of leaks that took place in September 2022 during the cyber attack. Fans have come together to pay tribute to L.A. Noire. The game was originally released in 2011 by Team Bondi & Rockstar.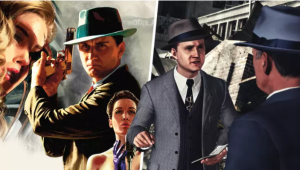 L.A. Noire is a third-person action-adventure game. Noire is an action-adventure in the third person that lets players assume the role of Cole Phelps in Los Angeles in 1947. Phelps' task is to investigate a morphine distribution ring. This case uncovers an important conspiracy and sends Phelps into turmoil. You'll be able to interview suspects and engage in intense gunfights while completing epic car chases. What else could you ask for?
Fans are still waiting for the sequel. Reddit user Blackvelvie said, "It was released on my birthday. It's crazy how it hasn't changed in 12 years. It's still a great game to play. Velocifero604 said, "It is strange that I just thought of it today. This is my favorite game. The ending. WOW! "I demand a follow-up."
User joshuastar called it a "once-in-a-generation game" and I think I'd have to agree. Maybe one day, we'll see that sequel. We could get a remake in the current environment. It seems that they are all the rage.