Clash of Clans is a game which is loved by everyone
There are many fans across the world who follow this game.
What is Clash of Clans game about? 
Clash of Clans is based on a fantasy-theme set in a persistent world where the player is the chief of the village. Clash of Clans focuses on building an empire of your own and gaining new resources for it by attacking others.
The official Instagram page of this game has got some really cool posts.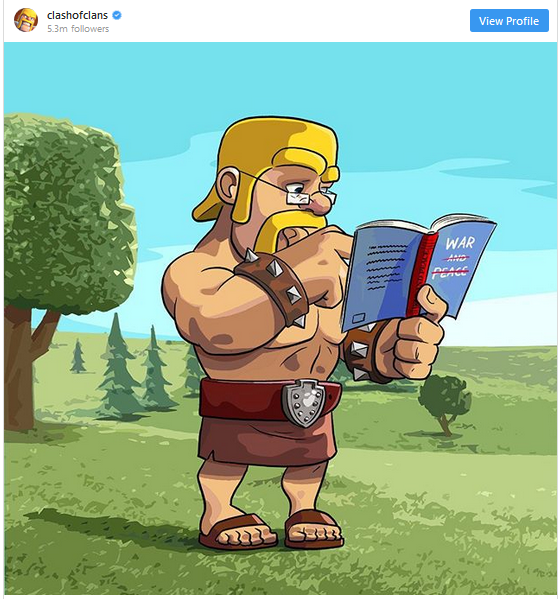 There is an official page on Instagram named 'Clash Of Clans', who provides or rather uploads pictures of what the Barbarian is up to every now and then. It is really cool that they have personified the character of the game, that is, the Chief of the village.
Recently, Clash of Clans took to Instagram to and posted some pictures about what the Barbarian does when he gets free time.
This is how the Barbarian spends his weekends. What do you do? 
The post  had a caption, "While anxiously waiting for his next clan war to start, the Barbarian took a little road trip to the Builder Base to visit friends and distant relatives."
The post had three pictures in a row where the Barbarian is posing with his friends and relatives and there is one picture in which he is pointing towards the stone sculpture of the Barbarian.
Why was the game's server down yesterday? 
There was a Clash of Clans maintenance break that took place yesterday. A maintenance break is when the developers have to deploy a patch which brings new content into the game. Without turning the server off for a while, you can not change the game's code on the servers. That is why the players were unable to play the game for a short period of time.
A game developer usually lets us know if the server is going down or will be offline for some time. They also usually tell when it is going to come back up.
It might also happen in some cases that the developer has had to suddenly shut off the server due to some error or problem that has occurred. In such cases of scenario, they make a quick announcement on their social media to inform everyone about the problem that has occurred.
Right now the game is online and is working absolutely fine. But,  if you are seeing a message that says regarding  'Clash of Clans Maintainance Break' that means there is something wrong with the latest patch or the game's server.