Insiders tease that Ghost Of Tsushima II is 'pretty ready'
There are probably more than a couple of PlayStation fans who read this article that were not overly impressed with the PlayStation Showcase this week. Do not get me wrong. There were many great games included. There were not many updates for first-party titles at the PlayStation event.
As was expected, a detailed look at Marvel's Spider-Man 2 gaming, which in my opinion is the best part of the evening, came. Peter's symbiote suits sure seem to be giving him some trouble. We're in the dark about the rest of the release schedule for first-party games. Insomniac is working on a Wolverine game following Marvel's Spider-Man 2, and a multiplayer TLOU project. Santa Monica Studio or Bend Studio are not revealing anything official. Sucker Punch is reportedly close to releasing Ghosts of Tsushima 2.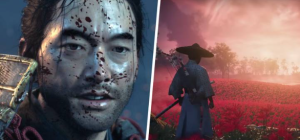 In February of this year, Sony released a new PS5 advertisement to celebrate the ending of console shortages. Sony showed off some exclusive PS5 games in the advert. It's easy to understand how fans became confused when they saw that the advert featured Ghosts of Tsushima II video, despite there not being a confirmed sequel. We expected it to be shown this week, but unfortunately, that did not happen.
One insider said that the game may be "pretty ready" so we'll probably turn our focus to Summer Game Fest, which will take place on 8 June. Insider Gaming's Tom Henderson said: "I'm not certain why Sony chose to wait for this event. It's well known that many of the games which we are waiting on have been completed. Henderson also claims to have watched finished trailers which weren't shown in the showcase on Wednesday.
Sony has been known to try and announce their games as close to the release date as possible to reduce delays to players, while also reducing pressure on developers. Last of Us: Part I, released in early September last year, was announced by Sony back in June. Insiders claim that Marvel's Spider-Man 2 will be released in early September. However, the release date is still unknown. Ghost 2 may follow the same trend.
SGF, which includes reveals of all consoles, is likely to attract more viewers from a marketing perspective than the PS Showcase. Sony will probably save the most exciting and surprising reveals for such an event. We all knew Spider-Man II would be released. We'll cross our fingers and hope that this is the case.